Offline
From: Switzerland
Registered: 11-13-17
Posts: 2
Gender: male
Age: 2019
Robot_ADX+2MA - expert for MetaTrader 4
The Expert Advisor Robot_ADX 2MA uses 4 indicators for the analysis:
2 Moving Average and 2 ADX indicators on periods of one minute and one hour.
Uses a fixed volume of the lot and the level of losses and profits, which is fixed too.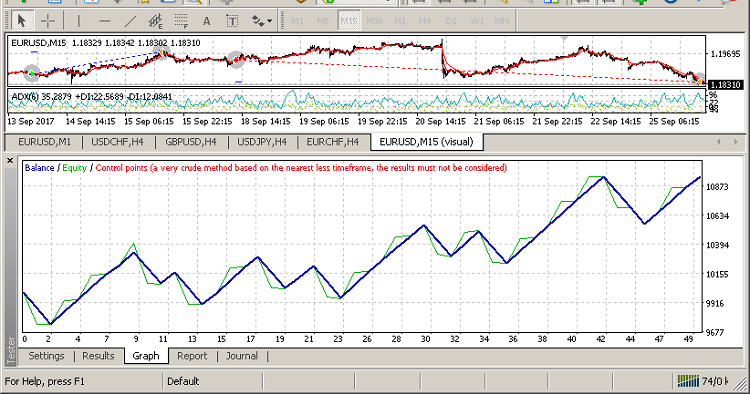 [h3]Input parameters[/h3]

TakeProfit = 70; - level of profit.

Sl = 20; - level of loss.

Lots = 0.1; - volume of deal.

n = 9; - threshold value between the Moving Average indicators.
Offline
From: Australia
Registered: 11-05-16
Posts: 145
Thanks: 13
Tuti,
Do you have back test result associated with that chart for this system?
Would like to see your results and then compare it to mine once they are completed.
Total number of registered users: 35,061
Newest registered user: Jef
Total number of topics: 11,997
Total number of posts: 38,170
---
Online users: 1,935 guests, 160 Members:
A.A.Sermarajan, adam34, Addyson, admin, adviser, agus777, alienxlab, Alikparah, amos44k, antobozic, aphong, aprice220466, ararivy, ashiknoyon777, autobot1, aweks, Awil Yare, axel7969, azhariw65, b78sandeau, Bog Min, boubou852, bryceegoh, Buduson, CASHSTORM, chartung, coscar, cosminb, Cristian Amadori, Cus1989, Daisuke Arimizu, David Paiz, david795g, DBO, deanperdanafx, deema, dolarge, Donnie Drajat, dreams_one89, drunkem1, EAInspirer, edermelo25, Emmy4luv, expertadv, fake, fewcha, filipc48, FloridaTraderLLC, flsekme, Forexleague, forexnfx, franck0naka, gafxtrader, garyfreund267, gbarrosjunio, gijothomas, Giri Rajkumar, Glasspar, gpiyush20, gungink, hessmed, hgerena, hktsui, ibrahimjoey, JACOB OLIVER, Jake1992, Jef, jefferson uche, Jimmy Blomstrand, john.solgaard, jony3d, Jordan Pritchett, Jose Ferreira Nascimento, Josemari Fernandez Liencres Alarcon, jstnfk, Junhao811, jyameogo87, kallbouneh, kennichu, kimbo23, Koko, kozura, kris69one, krlos27, kurt09, Larrywillo, leepa, lemeway, maceman, machemitoccafa, maheshsavaliya901, malchish, MarianNick123, mar_cast, mateusz, maxheadroom, meandyou284, megasuporteti, mekblukar, Michael Chukwudubem, michael9828, miketrader, mkebosedilekae, moemba88, Moepi, moreenlawson71, mouton.hanno@gmail.com, Mrk Tanvir, muaznurdin, murugeswaranb, muzahar, Navdeep, NeoMatrix1027, nienhuis2214, ninosdeltrade, Ntando30, oltecboy, pefre, peter.adshel, Profit Forex, quint, qwer58, reiki66, reymar77, reynier.punisher.barnard, rmallia100, roger23, rohitapps47, rtspurvi, sabayyyycal, safron, salpojuvi, Sarisa2514, shahinn, sheryalson22, SOLAD, sonychen59, StevenB, Suez225, SunBro, suwit, Symphoenix, Taposki99, tellanup, thanatchat.forex, Tharakash, Thomas Schott, topaz790, topcat275, tskabilan, verysurya23, Victoriano, viet.hoangq, Vlad Dobrov, wolfvolga79, xirixiao, yahavuzan, Zoltan0013, דרור וסרמן, 地美諭真
IMPORTANT: MT4talk.com is a public Forex forum, where forum members can upload open source Forex robots to share with other members. MT4talk.com forum does not sell or rent Forex robots, and does not provide guarantee or support for the uploaded Forex robots! If you have any question about any Forex robot, please open a forum topic! If you have a question about your forum account, contact: mt4talk@gmail.com
---
CFTC RULE 4.41 – HYPOTHETICAL OR SIMULATED PERFORMANCE RESULTS HAVE CERTAIN LIMITATIONS. UNLIKE AN ACTUAL PERFORMANCE RECORD, SIMULATED RESULTS DO NOT REPRESENT ACTUAL TRADING. ALSO, SINCE THE TRADES HAVE NOT BEEN EXECUTED, THE RESULTS MAY HAVE UNDER-OR-OVER COMPENSATED FOR THE IMPACT, IF ANY, OF CERTAIN MARKET FACTORS, SUCH AS LACK OF LIQUIDITY. SIMULATED TRADING PROGRAMS, IN GENERAL, ARE ALSO SUBJECT TO THE FACT THAT THEY ARE DESIGNED WITH THE BENEFIT OF HINDSIGHT. NO REPRESENTATION IS BEING MADE THAT ANY ACCOUNT WILL OR IS LIKELY TO ACHIEVE PROFIT OR LOSSES SIMILAR TO THOSE SHOWN.
Disclaimer - No representation is being made that any Forex account will or is likely to achieve profits or losses similar to those shown on backtests in this forum. In fact, there are frequently sharp differences between hypothetical performance results and the actual results subsequently achieved by any particular trading program. Hypothetical trading does not involve financial risk, and no hypothetical trading record can completely account for the impact of financial risk in actual trading. All information on this forum is for educational purposes only and is not intended to provide financial advice. Any statements posted by forum members about profits or income expressed or implied, do not represent a guarantee. Your actual trading may result in losses as no trading system is guaranteed. You accept full responsibilities for your actions, trades, profit or loss, and agree to hold the MT4talk team and forum members of this information harmless in any and all ways.