Offline
From: Switzerland
Registered: 04-01-18
Posts: 20
Gender: male
Age: 47
Thanks: 20
XMT Improved version
M1 Scalping - Keep standard settings 
Backtest working as well
Best with high volatility and low spread PAIRS
Offline
Registered: 04-29-18
Posts: 5
Age: 2019
It's seems to be good.
We'll see few days later for the results.
I'm fordward tes today hope good news 
im trying using demo acount n using default seting on m1 eurusd
im ft on demo today but still not open any single trade 
i dont know whats wrong ?
the result of xmt trading first day
using on major pair m1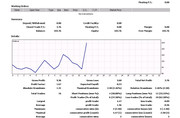 ]pict
Offline
From: India
Registered: 02-19-15
Posts: 38
Gender: male
Age: 30
b0mbercypher wrote:

M1 Scalping - Keep standard settings 
Backtest working as well
Best with high volatility and low spread PAIRS
Thanks alot Brother for the EA, I love it. Can You please provide MQ4 File? It would be great and I will thankful to You. May be I could improve its accuracy and some more feature could be added. Kindly upload MQ4 file. Thanks again.
Total number of registered users: 34,777
Newest registered user: Pacoforex
Total number of topics: 12,023
Total number of posts: 38,191
---
Online users: 2,196 guests, 169 Members:
777legrand, aayakasai, abbybc4, admin, Aesly Muller, agbatoadesina, agnivo, ahmed_maneim, ajuelman, amanda8811, arayankavilamma, avksak1, axel7969, Azuwan Abu, barandinomax, bebetopepe, Biadinho, billguvtd, BLACKHAMMER, Cake246, carlao2077, Cezar Tabac, cheery0515, ChippaBTrading, coscar, coulnam, crifalo, Cristian Amadori, cruelzhang, CY, dakillerz, damar2003, DaMilhaus, danielhsc, danroyal, dawsama, Denise Konrad, Denzil, Destoyer2002, dettol2, domi681, Donovan Sissing, Dorian Cozier, dreams_one89, eaglemain, EagleThrust, EAInspirer, edward330, escarface, expertadv, fabricioassuncao19772, farmabioq, Fatman861, Francis Yip, fx365, fxfarmerashik, fxvnpro, giomantov21, Giri Rajkumar, Good, gungink, GUNMAX, Gys Burger, Hardish, henroo, hgerena, hhh45, honchong, hunt4pp, ifilex, jeutouf, john.solgaard, Jose Ferreira Nascimento, jpapes, judeekatherinexx, Julio Gerbi, jyameogo87, Kei, Khwanchai Rattanasiraphapa, kiqaxerupumi, lee, machemitoccafa, machs_nochmal, Maguire808, marcelodj, MarianNick123, martinfousek67, masterblack, matuskotira1, maxheadroom, Maximcris, mcnih, mdnoor, metalfx, Michael Stuemky, migtab, Mikael Kungen Eriksson, mikefallow24, moreenlawson71, mouton.hanno@gmail.com, MrBullet, msoltanpor, music4rpg, Nathon Lee, Neville Carr, nienhuis2214, oakcrest12, ohejukugo, Olamighty, Olvit, otari, Pacoforex, pawelandrzej42, pblam, peter.adshel, PheaneWill, phillip4rex, pisan2524, Profit Forex, r.r., R4yy4n, rabii, refreshcoco, reiki66, reynier.punisher.barnard, Reza Mohammadi, ricky, roney 56, royhg, ryan.colitz51, salsep, sethcom, SHANKAR, singbeogoauguste, siphelojacob, smileward, sniv, strawberry4fx, SunBro, Symphoenix, tdeliev, teamthantin, tellanup, Tiago Moreno, timothy33a, topaz790, torillatrade, tradingralf, trash.mt4talk, Trevijam, ueuktfd, Usman27, vadvid, Victoriano, viet.hoangq, Vitallos, vodafone2066, vufx1972, Waksarul, warrenteoh, xperya, xsicoin, yahavuzan, yesitsme, Yolanda Fernández Franco, Zoltan0013, Алексей Отмахов, דרור וסרמן, จอห์น นั่นแหละ
IMPORTANT: MT4talk.com is a public Forex forum, where forum members can upload open source Forex robots to share with other members. MT4talk.com forum does not sell or rent Forex robots, and does not provide guarantee or support for the uploaded Forex robots! If you have any question about any Forex robot, please open a forum topic! If you have a question about your forum account, contact: mt4talk@gmail.com
---
CFTC RULE 4.41 – HYPOTHETICAL OR SIMULATED PERFORMANCE RESULTS HAVE CERTAIN LIMITATIONS. UNLIKE AN ACTUAL PERFORMANCE RECORD, SIMULATED RESULTS DO NOT REPRESENT ACTUAL TRADING. ALSO, SINCE THE TRADES HAVE NOT BEEN EXECUTED, THE RESULTS MAY HAVE UNDER-OR-OVER COMPENSATED FOR THE IMPACT, IF ANY, OF CERTAIN MARKET FACTORS, SUCH AS LACK OF LIQUIDITY. SIMULATED TRADING PROGRAMS, IN GENERAL, ARE ALSO SUBJECT TO THE FACT THAT THEY ARE DESIGNED WITH THE BENEFIT OF HINDSIGHT. NO REPRESENTATION IS BEING MADE THAT ANY ACCOUNT WILL OR IS LIKELY TO ACHIEVE PROFIT OR LOSSES SIMILAR TO THOSE SHOWN.
Disclaimer - No representation is being made that any Forex account will or is likely to achieve profits or losses similar to those shown on backtests in this forum. In fact, there are frequently sharp differences between hypothetical performance results and the actual results subsequently achieved by any particular trading program. Hypothetical trading does not involve financial risk, and no hypothetical trading record can completely account for the impact of financial risk in actual trading. All information on this forum is for educational purposes only and is not intended to provide financial advice. Any statements posted by forum members about profits or income expressed or implied, do not represent a guarantee. Your actual trading may result in losses as no trading system is guaranteed. You accept full responsibilities for your actions, trades, profit or loss, and agree to hold the MT4talk team and forum members of this information harmless in any and all ways.