Elli EA - (Tested with over $200,000 profit)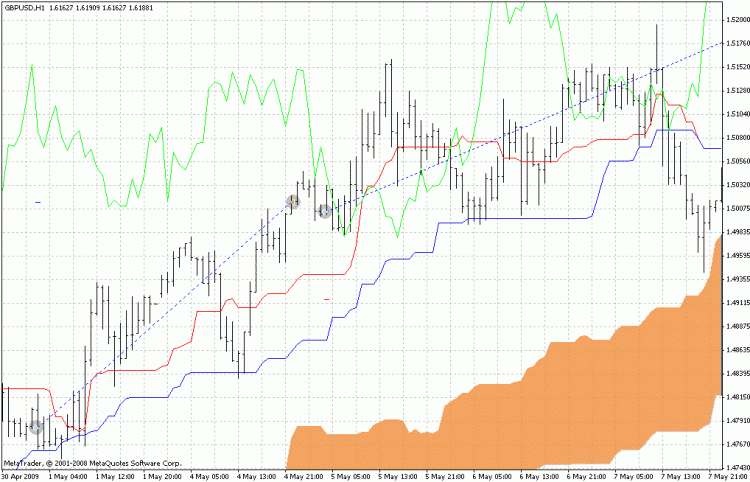 Символ GBPUSD (Great Britain Pound vs US Dollar)
Период 1 Час (H1) 2009.05.01 00:00 - 2009.06.01 00:00 (2009.05.01 - 2009.06.01)
Модель Контрольные точки (очень грубый метод, результаты нельзя принимать во внимание)
Баров в истории 1500 Смоделировано тиков 13579 Качество моделирования n/a
Ошибки рассогласования графиков 13
Начальный депозит 50000.00
Чистая прибыль 18562.05 Общая прибыль 27735.39 Общий убыток -9173.34
Прибыльность 3.02 Матожидание выигрыша 1546.84
Абсолютная просадка 528.97 Максимальная просадка 7153.84 (10.50%) Относительная просадка 10.50% (7153.84)
Всего сделок 12 Короткие позиции (% выигравших) 0 (0.00%) Длинные позиции (% выигравших) 12 (58.33%)
Прибыльные сделки (% от всех) 7 (58.33%) Убыточные сделки (% от всех) 5 (41.67%)
Самая большая прибыльная сделка 4623.00 убыточная сделка -1918.70
Средняя прибыльная сделка 3962.20 убыточная сделка -1834.67
Максимальное количество непрерывных выигрышей (прибыль) 2 (8772.53) непрерывных проигрышей (убыток) 3 (-5589.82)
Максимальная непрерывная прибыль (число выигрышей) 8772.53 (2) непрерывный убыток (число проигрышей) -5589.82 (3)
Средний непрерывный выигрыш 2 непрерывный проигрыш 2
Download the files:
Elli.mq4
15.89 kb, 226 downloads since 2014-10-17
---
Online
From: Ukraine
Registered: 09-08-18
Posts: 788
Gender: male
Age: 38
Thanks: 157
Hi, thanks for sharing.
I made a lot of changes and tested this Forex robot on a real account!
Please look at what I got.
We tested on: FXOpen Broker! Click here to open an FXOpen eWallet!
We tested on this super-fast Forex VPS! It's highly recommended for 24/5 automated trading!
Deposit: $250
Leverage: 1:500
The test time: 7 months.
Total trades: 27
Average trades per month: 4
Total profit: $216,435
I tested on the real account!




Note: We made this test for you, to give you a starting point. You should always make your own test.
Have a good trend and the biggest profit!
For detailed test information, please download the files below!
This test showed that this EA has potential. But all traders himself must optimize the EA on his account with many backtests and forward tests.
Total number of registered users: 63,745
Registered users today: 40
Newest registered user: Graph
Total number of topics: 11,627
Total number of posts: 38,142
---
Online users: 3,033 guests, 144 Members:
11sway, abel123, Achmad, admin, Afnan Al-mustafa, Ahmad AA, Ait Hammou Noureddine, Alfa822014, Alibhai, Aliizadi, alimsvn, AlvinJ, Andrea Capatti, arestokrat, As Ma, Ashfak432, assfianazhar, ayo1050, Ayoolaken, badboy.seft, BENEX, bharathvbk, bschumac, bukohsk, Camilo Losada Rivera, caribfx8, Chako009, Clovis1278, Cptndobko, crezia.gg, Dan Paine, Dbconexion, denizyaran, DinPrince, dumisawhite, EA Tester Team Manager, Edison Lopez, Emad Shoblak, Epicpainter, Eromosele Uanzekin, faridon2008, fdosanch, febryardiandtiansyah, firdaus26, forum, FXOpen Trader, George Bayss, Graph, Hlologelo, Hồ Phước Tân, Ichi Ruto, irone710, JacoKriel, JadFX, Jamshaid Ahmad Hashmi, Javier Garcia, jblibam, jiddan78, Jinan, Joe Hepworth, johncrichton001, joshwinks, Kamaruzaman Muhammad, kevinvalent, Kgothatso, kopeykin, kreangkrai, kwenza, Lann808, link22, lkingkk1, Luan, m1806, Maci, madysnet, makioveli, mank, masrouri2, Matthys Johannes Adriaan Roos, mayasondo, Medoune Beye, Melisa Sarah, melvin429, Meta trader 5, Mich Vfx, miladtrader, mofokengdavid90, mojieng, Mpower18, Muomen, nando12, Natti Orpaz, Nayan Joshi, nctrading, neguse, Nhat Le, noman3643, OALEX, Om Cuan FX, Otsile mokoena, pantherrilla, paolocroci69, Paul Bartlett, Peekaboo, peteaw72, pr-systems, Putra, raga, Ravi6497, regn12, REMFX84, rgdhrmk, rpmackey, Sam28, sanong1968, Saziso, Shahrul Nizam M. Sapuan, Shiv sagar Giri, Siavash Sadeghi, SiphoG, skysky1, sofianesynchro, sri4you, srn155, strawberry4fx, tadex, tcr009, Tolkien_12, topaz790, tradingralf, tskabilan, vitalik2879, walidshahbudin, walvekarrajesh, wan234, wanamo, wantut, widadi, Xengxiong, ygtrader20, Zoltan0013, zvikig, Բախշի Ավետիսյան, דרור וסרמן
MT4talk is a User Generated Content website. All content uploaded to MT4talk by our users (MT4talk forum members) is User Generated Content. Please note that MT4talk doesn't sell Forex robots and does not provide support for the uploaded Forex robots. MT4talk only sells PRO membership. PRO membership is unlimited download access in every forum topic and forum posts.
---
CFTC RULE 4.41 – HYPOTHETICAL OR SIMULATED PERFORMANCE RESULTS HAVE CERTAIN LIMITATIONS. UNLIKE AN ACTUAL PERFORMANCE RECORD, SIMULATED RESULTS DO NOT REPRESENT ACTUAL TRADING. ALSO, SINCE THE TRADES HAVE NOT BEEN EXECUTED, THE RESULTS MAY HAVE UNDER-OR-OVER COMPENSATED FOR THE IMPACT, IF ANY, OF CERTAIN MARKET FACTORS, SUCH AS LACK OF LIQUIDITY. SIMULATED TRADING PROGRAMS, IN GENERAL, ARE ALSO SUBJECT TO THE FACT THAT THEY ARE DESIGNED WITH THE BENEFIT OF HINDSIGHT. NO REPRESENTATION IS BEING MADE THAT ANY ACCOUNT WILL OR IS LIKELY TO ACHIEVE PROFIT OR LOSSES SIMILAR TO THOSE SHOWN.
Disclaimer - No representation is being made that any Forex account will or is likely to achieve profits or losses similar to those shown on backtests in this forum. In fact, there are frequently sharp differences between hypothetical performance results and the actual results subsequently achieved by any particular trading program. Hypothetical trading does not involve financial risk, and no hypothetical trading record can completely account for the impact of financial risk in actual trading. All information on this forum is for educational purposes only and is not intended to provide financial advice. Any statements posted by forum members or the MT4talk EA Tester Team about profits or income expressed or implied, do not represent a guarantee. Your actual trading may result in losses as no trading system is guaranteed. You accept full responsibilities for your actions, trades, profit or loss, and agree to hold the MT4talk team and forum members of this information harmless in any and all ways.
---
Affiliates Disclaimer - The site may contain links to affiliate websites, and we receive an affiliate commission for any sign up that trade by you on the affiliate website using such links. Our affiliate partners includes the following: FXOpen, FBS, LQDFX, MyForexVPS.