If you want to download Forex robots, you must register or login to your MT4talk account first.
The MT4talk Forex robot tester team testing about 10 new Forex robots every week.
---
---
Become an affiliate of MT4talk.com and earn a recurring commission.
- Earn a 50% commission on every sales you generate.
- Monthly payouts via PayPal, Bank/Wire Transfer or Payoneer.
Join the MT4talk partner program at https://a.paddle.com/join/program/29759
TIP: If you embed this forum topic into your website, you can also add the affiliate link as 1x1 pixel Iframe into your site.
In the above iframe change the link "https://your-affiliate-link.com" to your actual MT4talk affiliate link.
HFT EA (LIQUIDEX_V1)
It is made for educational purposes. It uses simple moving average and range to get into trades and uses trail stop to exit trades.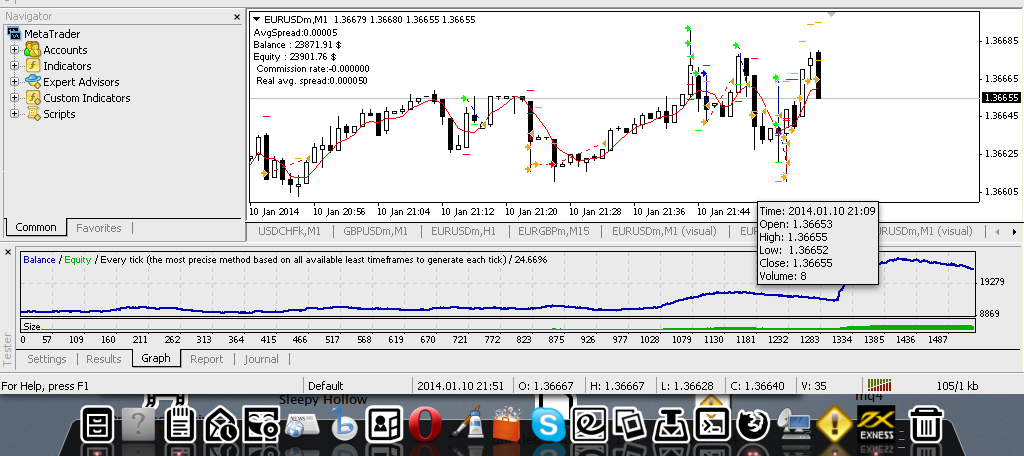 masaradx.mq4
4.97 kb, 149 downloads since 2014-09-27
---
If you want to download files, you must register or login to your MT4talk account first.
Offline
Registered: 10-19-14
Posts: 1
hi, its very interesting EA.
but i found it also in the mql5 forum. here is the link:http://www.mql5.com/en/code/11092
are you the guy also ?
No i am not that guy see i have got that from my friend and i was used that and seen its very use and spectecular content that cause i shared with others but i am not owener of this.

thanks.
Kindly, tell which time frame will be best for this Ea. I am testing this Ea. May be it is useful. Please guide further about this Ea.
i think it can be used in most popular time frame and basically in major currencies...
They are somewhere for inspection by the results of this system? Really it works on the principle of HFT?
Thanks for the Ea. Just dowloaded, would test it and see how it performs. the version is same as mq5 and dows not have SL, TP, TS, etc
i`m really interested...now i learning how to use hft ea....i really need help
Offline
From: India
Registered: 02-19-15
Posts: 37
Gender: male
Age: 31
Thanks for the EA, how is result now? what Brokers could be use? 
I am currently using it in below Brokers, they Accept HFT Strategy.. and All are Fully regulated / Real ECN.. No withdrawal issues at all.. 
Check below Links:
If any results, Please update here..
Thanks,,
You could use it on any currency or functional currency only?
Total number of registered users: 52,705
Registered users today: 22
Newest registered user: MarkTrader
Total number of topics: 11,592
Total number of posts: 37,553
---
Online users (last 60 minutes): 3,303 guests, 262 Members:
0815507720, 40333369, Abeid Clifford, absolom mabachi toil, adaraubb, Aditya_Kichambare, admin, Ahmed Adel, ahsan22081972, Aj, aka1908, Akinwumi Akinola Joshua, Aksnip, Al2xander, alapia, Alfaseis Jj, alireza_naghmehkhan, Allanr, Anderson Polo, andreww, Antonio04, aptrade66, arlo_tim, Arvin, asimiqbal008, asong528, Attique Javaid, Azar, Ben Hill, Benya, betuboxem, Biki443, bitgoo365, bjkcolom, BojanR01, Bouleville Julie, brojack00, Buket, BUNDER, Butch1220, canie, Chrristopherrr, Ciclope Costa, Cj, cluemaster2000, cmaq, condar, cosminb, Cryptofx, Cube_48, cwiek25, damavandfx, Damned2012, Daniel7707, danmoses88, danny4u, dbrm13, dereck12, dido, dinhhuy, dome24, Don Askia 1, Donald Erasmus, Donovan Sissing, EAInspirer, Egidijus Tankelevičius, ejoacof, ekans1234, Emil Botto, eprobay, erglis27, Ery Aswa, Essam Mohammed, FABIO987, Faridudin Hafiq, Firdaus Gmi Edge, flora, flsekme, Francisco Bp, frids15, fxpro62, g0ldeneye, galsa33, GHOST24KILLER, ghraiano, gilfx, Gizmosz, Godfrey, Greenhill, Hamham Nakata, harryhad, Herberth Zandomenico, HFTX, hicksd8, Humayra, husniliman, Huson Chow, ihnatos, Inokko, Ivanfx, Iyokan, jahehehinnou, Jesus Helices Chaves, jialinc, Jilles Maes, JKMPZ, joanilur, John B. Debuchy, johncrichton001, johnesky4, Joram, Jorge Martinez, Joromoga, José Luis Pérez, JPtrade, JulekFX, junacwifi, Justin Chinedu, kallhox, Kanhook, kashif, Kgatle@10, kinba, KitchenAidjkf, kris69one, krissuh, krugger21, Kubilay Örnek, lavicci, lee, lgonah, Macstein, mahmoud.abuammuna, maleselasimon1, mancangkul, Manuel Sopena Canals, mapyk024, Marcelo Borasi, Marcus111, MarianNick123, Mario Villary, Marka1973, MarkTrader, mars7, MaziUche, Mchai Pinkul, mcwilton, Meldude, mhd.fn, mi2010doo, Michaelfane, Mike18, mike1809, minhquan.cd1983, Minsoo Seok, mmiles3000, Mogbolu Simeon, monoside, moparlife, msaly, mt4eahunter, MT5, Mushindi, mydir82, MyForexT, nacu, nama_saya, Nasco Mihaylov, navieko, nexin, Nitikorn Pumpo, Nitin Phadnis, nj620903, noeltg, Nur Hidayat, nurmis, Odir Brasil, Olvit, pandaman, pdt777, photize, Pillarforex, Pizzo, playgolf, pldupreez, Powermarinho, primalsplit69, prince omar, Profit Forex, prs10ce, qihun, qingalong, Radz5000, Ramunas Kniazevas, RastaKadir, ravivarakala, Ricardo Potes Sunio, riekis, Rivoni, Rolyat, RomaIrama23, rose08, rruiz99, Saddam Junejo, sales, Sam Rockson, Sam Tag, sam991, Samia254, Samsron Jeong, sariertrans, Sarwar, sasastephe, Sean Ngeow, set2jet.investments, shanfx, sherbet, silversurf, sivakarthifx, skumar7671, Šmĭ Łë, Sospitah Kusema, ssamit6, Stamatis Lamprinoukas, stigmaniac.fx, strawberry4fx, Sunday Adebisi, SunRise, Sydney2000, ta srenevasan, Thanush Kanagarasa, Thed1985, Thijs De Laet, ThreeLions, Thuso, Tibortrade, Tien Seng T, Timothy Emong, Tinyiko Khambani, Tony Levanic, traderxe, tradingralf, Trooth847, tskabilan, tunglt71, tyorex78, ueuktfd, UncleKay, vamedinao, venkey, Vobaloyi, Vusi@Banda, walidshahbudin, Wan Mah, wiggil, Wiljou, winningedgoz, yama, Yassinesagi, zedeai, Zoltan0013, 김상민
MT4talk is a User Generated Content website. All content uploaded to MT4talk by our users (MT4talk forum members) is User Generated Content.
All User-Generated Content shall be for information purposes only. While MT4talk shall endeavor to provide you with accurate information on its Website, MT4talk shall not be responsible for the accuracy or reliability of User Generated Content. As such you agree to access the Website and use the Services at your own risk. You shall be solely and exclusively responsible for all User Generated Content you upload or post on the Website. You hereby grant MT4talk (i) an irreversible, non-exclusive, royalty-free and fully-paid, worldwide license to reproduce, distribute, publicly display and perform, prepare derivative works of, incorporate into other works, and otherwise use and exploit your User Generated Content, and (ii) the right to include the User Generated Content on the Website. You hereby irreversibly waive any claims and assertions of moral rights or attribution with respect to your User-Generated Content.
Only open source forex trading software used to automate online trading decisions/signals ("Forex Trading Robots") shall be uploaded by you onto the Website. MT4talk prohibits the uploading of copyrighted, hacked or illegal versions of forex trading robots on to the Website. MT4talk may remove any copyrighted hacked or illegal versions of forex trading robots from its Website and may close your Member Account (defined below) should you upload copyrighted, hacked or illegal versions of forex trading robots on to the Website. Forex Trading Robots that have been uploaded on the Website, may undergo a simulated back-test on an actual forex account by our tester team, solely for the purposes of providing you with a starting point for your own back-test and for educational purposes only.
To use the MT4talk forum, you must agree on the Terms of use and Privacy & Cookies Policy!
---
CFTC RULE 4.41 – HYPOTHETICAL OR SIMULATED PERFORMANCE RESULTS HAVE CERTAIN LIMITATIONS. UNLIKE AN ACTUAL PERFORMANCE RECORD, SIMULATED RESULTS DO NOT REPRESENT ACTUAL TRADING. ALSO, SINCE THE TRADES HAVE NOT BEEN EXECUTED, THE RESULTS MAY HAVE UNDER-OR-OVER COMPENSATED FOR THE IMPACT, IF ANY, OF CERTAIN MARKET FACTORS, SUCH AS LACK OF LIQUIDITY. SIMULATED TRADING PROGRAMS, IN GENERAL, ARE ALSO SUBJECT TO THE FACT THAT THEY ARE DESIGNED WITH THE BENEFIT OF HINDSIGHT. NO REPRESENTATION IS BEING MADE THAT ANY ACCOUNT WILL OR IS LIKELY TO ACHIEVE PROFIT OR LOSSES SIMILAR TO THOSE SHOWN.
Disclaimer - No representation is being made that any Forex account will or is likely to achieve profits or losses similar to those shown on backtests in this forum. In fact, there are frequently sharp differences between hypothetical performance results and the actual results subsequently achieved by any particular trading program. Hypothetical trading does not involve financial risk, and no hypothetical trading record can completely account for the impact of financial risk in actual trading. All information on this forum is for educational purposes only and is not intended to provide financial advice. Any statements posted by forum members or the MT4talk EA Tester Team about profits or income expressed or implied, do not represent a guarantee. Your actual trading may result in losses as no trading system is guaranteed. You accept full responsibilities for your actions, trades, profit or loss, and agree to hold the MT4talk team and forum members of this information harmless in any and all ways.
---
Affiliates Disclaimer - The site may contain links to affiliate websites, and we receive an affiliate commission for any sign up that trade by you on the affiliate website using such links. Our affiliate partner includes the following: FXopen, FBS, LQDFX, MyForexVPS, KickEX.